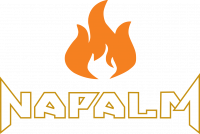 Designed to give the best vape experience, the Napalm Detonator is both powerful and discreet all while enjoying a vape session that is customized to your needs!
Powerful Lithium-Polymer Battery
Used for vaping botanicals and waxy concentrates, the Detonator is powered by a 2600 mAh built-in, rechargeable, Lithium-Polymer battery.
Precision Temperature Control
The Detonator has an OLED screen to control the temperature by degree. The temperature range is from 212°F- 464°F with dual session times (5m/10m).
Slim & Discreet
The Detonator fits discreetly in the palm of a hand for fast, on-the-go convenience. It can be easily stored in it's carrying case or a pocket when not in use.
Easy to Clean & Maintain
Included is a mouthpiece, attached magnetically and comes off easily to fill and clean, a water pipe adapter, a filter cup for vaping concentrates, a one-of-a-kind dab tool, silicone grenade sleeve, cleaning supplies, and a Micro USB Charger.
Advanced Heating Technology
Advanced technology used in the ceramic conduction oven makes the Detonator unique on the market. With a variety of versatile features, you will find everything necessary, packed into this hand-held vaporizer.
Bomb Design
This sleek vaporizer comes in a distinct and pleasing grenade pattern and has a soft-touch silicone sleeve that enhances the look and feel of the Detonator.