Designed to be portable and reliable, the Buddies Toro is an exquisite handheld e-rig that is both powerful yet discreet to use.
Long-Lasting Battery
Used for vaping waxy concentrates, the Toro has a powerful 1350 mAh Lithium-Polymer battery that will outlast most competitors on the market.
3 Temperature Settings
The Toro comes with 3 temperature settings accompanied by a light display around the base of the e-rig: Low (White), Medium (Green) & High (Red).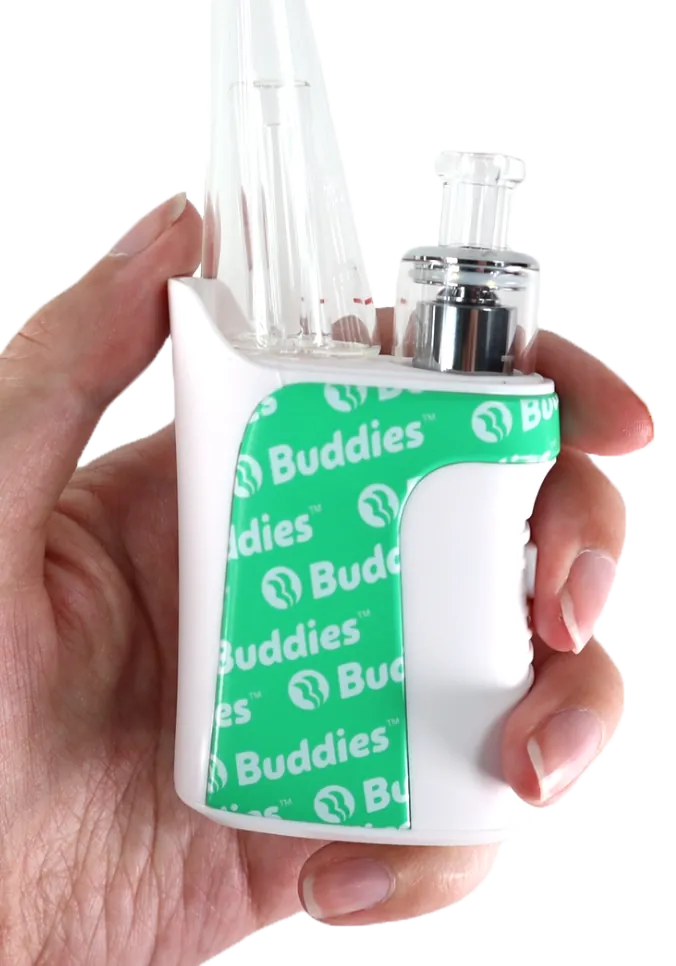 Slim & Discreet
The Toro fits discreetly in the palm of a hand for fast, on-the-go convenience. It can be easily stored in a bag or pocket when not in use.
Easy to Clean & Maintain
The water bubbler, atomizer and carb cap are all detachable and replaceable for easy maintenance.
Advanced Heating Technology
Advanced technology used in the quartz heating chamber and battery sets the Toro apart from competitors. With a variety of versatile features, you will find everything necessary and nothing that isn't, packed into this exquisite portable e-rig.
Striking Design
Aptly named "The Toro", the sheer power of this electronic dab rig is evident upon use and is embodied by the Bull Icon on the button. With a white oyster body and custom teal midline, this e-rig is as striking as its name.