In today's world, it is hard for a business to grow on just having product available. Whether it is cannabis, food, or any other product, packaging is essential for business. Packaging determines how long a product will last, how well it will ship, and ultimately how well it will sell.
Successful cannabis packaging is based on 5 different factors: product longevity, child-resistant packaging, design, market trends, and sustainability. Tuning into these factors is key to a growing and profitable business.
Helping Products Last
Packaging comes in many different styles, shapes, and sizes so it can be hard to pick which way to package products. It's important to keep in mind that oxygen, water, and light are vital to humans, but they are not very efficient at keeping products fresh. Oxygen and moisture are drivers in the degradation of consumable products so it's important to pick proper packaging.
Mylar Bags
One of the most common forms of wholesale packaging for keeping products fresh are mylar bags [DIAG 1.0]. Mylar is made of polyester film which is sprayed with aluminum which results in air or moisture being unable to penetrate the bag. Mylar bags are superior to any vacuum sealing since vacuum sealed bags will eventually start to leak overtime. UV rays can also destroy product. Mylar bags block out harsh and damaging light to keep the product safe while on the shelf and during shipping. It is also much harder for insects to chew through mylar, so customers don't have to find any creepy-crawlies that have tarnished their product [1].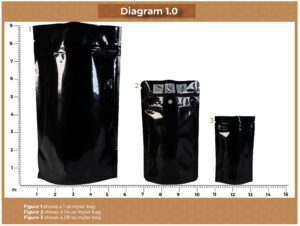 Glass
Glass is another popular way that cannabis flower and other products are stored. While it can be quite fragile, customers are willing to pay more as glass provides a luxurious feel to the product. Consumers find glass to be an aesthetically pleasing way to store cannabis while also being child-resistant, tightly sealed, and environmentally friendly [2]. Glass comes in a wide variety of packaging options such as tincture bottles, syringes, and concentrate containers. Glass is not light resistant so having sturdy outer packaging is important to keep the UV rays out as well as keep the glass from cracking or chipping.
Child-Resistant Packaging
Not every state requires packaging to be child-resistant (CR), but companies find that it is best practice to make all their bulk packaging CR. There are many benefits of making packaging CR even when it's not necessary. While the state you are selling in may not require CR packaging, that can be subject to change in the future. Incorporating CR packaging choices means that companies stay ahead of regulation changes rather than having to rush to modify products [3].
Putting effort into making packaging CR also shows care for the customers. Many cannabis consumers have families and children around them. By providing CR packaging, companies give cannabis users security in knowing their product and children are safe from harm.
Designing Your Packaging
Don't judge a book by its cover is a common phrase to judge the worth of someone or something by the inside rather than the outside. The idea that what is on the inside that counts is what marketing firms and departments have proven otherwise. Wholesale packaging design is what makes the product shine and is a key factor into getting product into the consumers hands in the first place. A company's product could make people invincible but with lackluster packaging, that company would be lucky to get a few off the shelves.
The quality of the product is important in terms of consumer longevity, but putting effort into packaging design shows that a company cares about their product. Custom packaging is seemingly limitless now-a-days which is why companies need to know their customers. If the customers are women ages 18-25, a company is not going to do well by using dark colors and basic text. Putting effort into knowing customers will have them picking the same product and company again and again [4]. 
Besides having a strong brand design, It's also important to differentiate designs between different product lines. For example, products made for sativa would be marketed differently than products made for indica. A sativa line may have bright colors and a focus on productivity while indica may be promoted with muted, calming colors while promoting relaxation and sleep. This helps customers easily navigate through products at a glance.
Best Trending Designs of 2022
In the past few years, trends have shown that minimal designs are in. Minimalism is easier for consumers to understand, cheaper to print, and looks sleek. Many consumers want a product that is discreet, and the packaging design should reflect that [4]. Some consumers embrace the cannabis lifestyle, but there are still those who prefer to keep their cannabis products hidden. Minimal design does not mean boring design. Many of the bestselling cannabis brands have minimalistic packaging that make use of bold color and unique choices to give their products a unique edge over their competitors. One of the biggest packaging trend of 2022 is specialty coatings and foiling. Foiling has gone on the rise due to a noticeable increase in consumer sales. Foiling on packaging provides two benefits, products stand out on the shelves, and some consumers see foiled packaging as premium [5].
The Rise of Sustainability
Sustainability in packaging is all about the three Rs of recycling. Cannabis consumers are looking for packaging that is reduced, reusable, and recyclable. 79% of consumers are in support of putting environmental standards in place for cannabis products and 77% are also in favor of quality certifications [6]. COVID-19 has caused a multitude of changes in today's market and opened the eyes of many consumers. Because of the pandemic, half of consumers have claimed to become more eco-conscious [7]. Brands have really stepped up to the challenge of giving customers sustainable options such as resealable bags, creating new biodegradable packaging, and even giving recycling instructions directly onto the packaging.
Bear Rootz's Contribution
Bear Rootz has always been dedicated to innovation so we are taking steps to reduce our ecological footprint. Rather than waiting for others to do it first, we are working with a few manufacturers to create different sustainable wholesale packaging options that won't break the bank. So far, we have created an FDA tested, biodegradable CR tube utilizing rice husks. These tubes are currently available for order and have plenty of room for customization. There are no plans on stopping there, we plan on creating other sustainable cannabis packaging options with a company called World Centric. World Centric is a company that is certified by many organizations and creates 100% compostable foodservice and packaging products [8]. There are a few prototypes at work with World Centric including a cartridge packaging option as well as other single vape-pen and pre-rolls prototypes in motion.
Sources:
[1] https://www.primalsurvivor.net/mylar-bags-vs-vacuum-sealing/
[2] https://cannaline.com/top-cannabis-flower-packaging-options/
[3] https://www.ganjapreneur.com/top-five-packaging-trends-for-cannabis-branding/
[4] https://www.newprint.com/blog/best-cannabis-packaging-tips/
[5] https://www.oliverinc.com/blog/printing-and-packaging-trends-for-2022#:~:text=Among%20the%20printing%20and%20packaging,of%2Dcustody%20certifications%20and%20sustainability
[6] https://www.prnewswire.com/news-releases/new-study-finds-cannabis-consumers-increasingly-want-eco-friendly-chemical-and-pesticide-free-and-organic-certification-in-the-products-they-buy-300968802.html
[7] https://cannabisindustryjournal.com/feature_article/theres-more-to-sustainable-packaging-than-meets-the-eye\
[8] https://www.worldcentric.com/our-impact/zero-waste-solutions/certifications/